Gerry McNamee
I will be collecting additional material memorializing the life of my father, Gerry McNamee. If you have any, please send me email. dylan at aracnet dot com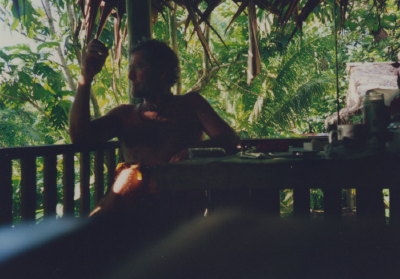 Gerry in Pohnpei, Micronesia.
Here is the Memorial program and the songsheet. I'm particularly proud that Audra, my 9-year-old daughter, lead everyone in singing "Blowin' in the wind".
Charles Deemer, Gerry's good friend from grad school days, posted a very nice note on his blog.
Rich Wandshchneider, another good friend from Enterprise and founding director of Fishtrap (which Gerry loved, and where he did some teaching), wrote this essay, titled Friendship.
At the memorial service, George Venn read this poem he wrote about Robins coming from Mexico. The copy I have is inscribed "For Gerry McNamee—with thanks for your kind words about this wildest flight—Cheers, G. Venn 5/98
Also at the service, Pamela Mireles read a letter, from her brother Mauricio, which describes his relationship as a friend and student.
last updated July 1, 2009